Fresh & Fabulous
We help you get fantastic food on the table a little faster, whether it's a fully prepared meal or entertaining essentials for when friends come over.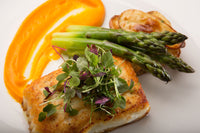 Weekly Prepared Menu
When you're craving a restaurant-quality meal with home-cooked appeal, we've got you covered. Each week we offer full dinners curated and crafted by the chefs of Kristen Winston Catering.
View This Week's Menu